Drumroll, please! It's time for a brand-new update for Lobster_data that comes with a plethora of new options and solutions: Lobster_data 4.5! Let's look at some of the highlights of the release, the full list of changes, fixes and – most importantly – how you can start using Lobster_data 4.5. From GUI updates, new modules, and better API management to improved security and more ways to communicate. Whatever you need in the world of EDI, EAI, IoT, Industry 4.0, big data, automation and much more: we've got you covered.
LOBSTER'S LIST OF MODULES KEEPS GROWING. WITH ETL/ELT, WORKFLOW AND DATACOCKPIT.
The volumes of corporate data processed annually are growing. And we want to make sure our innovative offerings are expanding right alongside them. So, Lobster_data 4.5 now comes with three new Modules to help you with your data and processes: ETL/ELT, Workflow and DataCockpit. The first, Lobster's ETL/ELT Module, can be used to process mass data in the blink of an eye. Even if it comes from different data sources, is incomplete or incoherent. And what's more, our Module not only saves you time, works for all supported data formats (e.g., XML, JSON, CSV, etc.) but also significantly improves the quality of your data – For any analysis is only as good as the data on which it's based.
Lobster's Workflow Module is designed to define even highly complex processes within your company, orchestrate them and involve staff and third parties alike. For example, it allows you to connect multiple profiles together in a (semi-)automated process, like when claiming travel expenses. From the employee filing them, to eventually getting reimbursed. The possibilities are endless. Combining this with the new DataCockpit Add-on Module will also allow you to further improve access management by clearly assigning roles and rights to internal and external users. Making sure you stay in control of all your data and processes.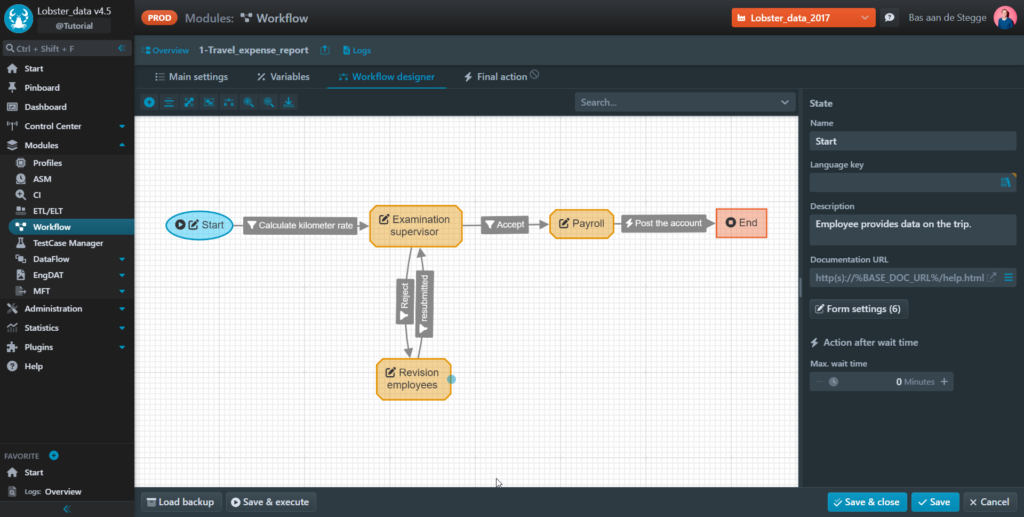 SMARTER API. WITH AUTOMATIC VERSIONING AND SWAGGERS.
Creating, maintaining and updating your APIs in Lobster_data has just got that little bit easier. Lobster_data now automatically creates an open API swagger that you can share with clients who want to connect with your API. On top of that, versioning lets you safely update your APIs, while your customers decide when they're ready to upgrade. Just run the old and the new API at the same time until everybody is good to go!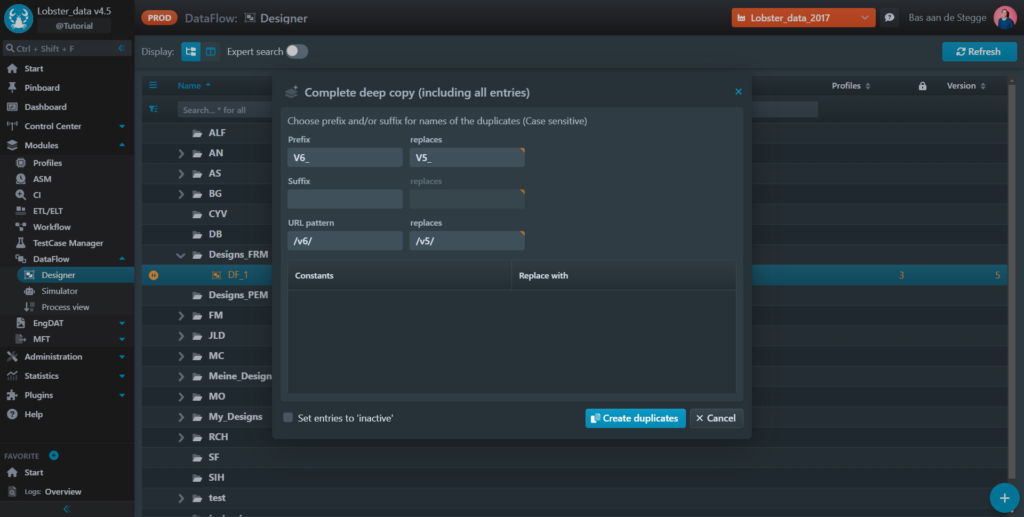 MONGODB. AS4. TCP. EXPANDING THE WAYS YOU INTEGRATE.
Release 4.5 also comes with many user-friendly integration options. Besides our existing features, it's now possible to set up integrations with MongoDB, AS4 and TCP connections. With new icons, keeping track of the choices you make at every stage of the integration process is easy. You can add more documentation and even turn sensitive input/output data on or off to make sure your data remains hidden and protected. And these are just a couple of the many quality of life improvements you'll find in Release 4.5!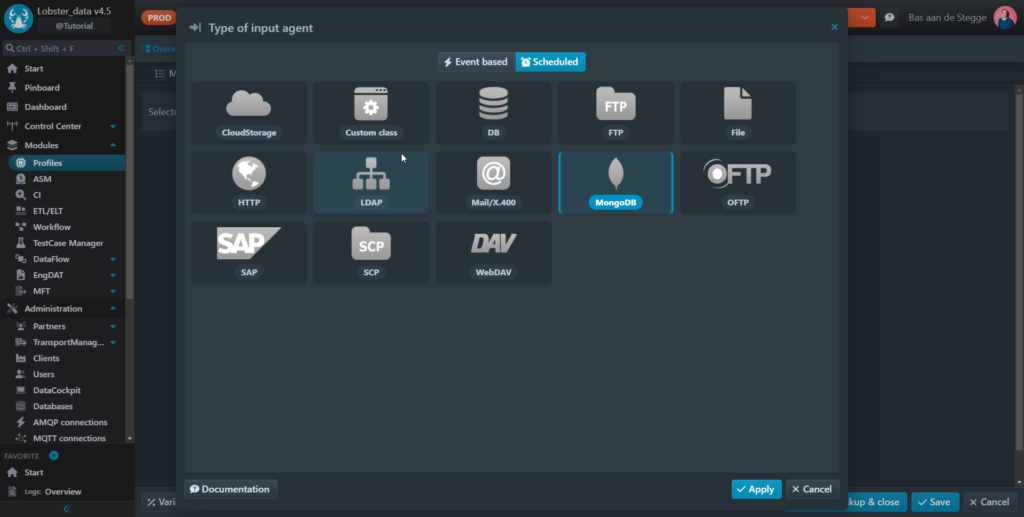 IMPROVED SECURITY WITH TWO-FACTOR AUTHENTICATION.
To ensure you're protected against unauthorised logins to your integration system, we've have added a new, optional layer of security: two-factor authentication. Once enabled under password settings, you're sent a text message with a code to log in. Furthermore you can now also use single sign-on (SSO) and thus login with the same credentials and the same layer of security everywhere.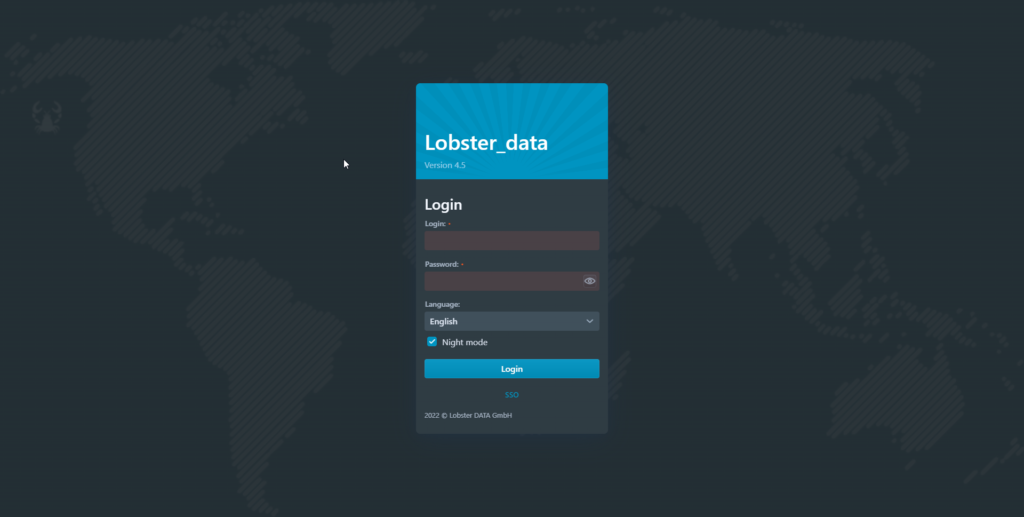 GIVE YOUR LOBSTER_DATA A PERSONAL TOUCH.
To make you feel even more at home in Lobster_data we've introduced a series of new GUI functionalities. You can now decide what page you see first when you log in and configure the widgets on the pinboard, so you only focus on what's important to you. Not only did we revamp the navigation menu, but we also built a new plugin for QR-codes and improved the expert search function. Now, finding what you're looking for is child's play!
Furthermore, you're able to adapt the size and colours of the UI, the standard size of the font, easily switch between light and dark mode and define how and if you want to receive notifications. To help you out master these new settings, check out the Lobster GUI Tour in the Help section. Get ready to personalise your Lobster_data for a customised experience.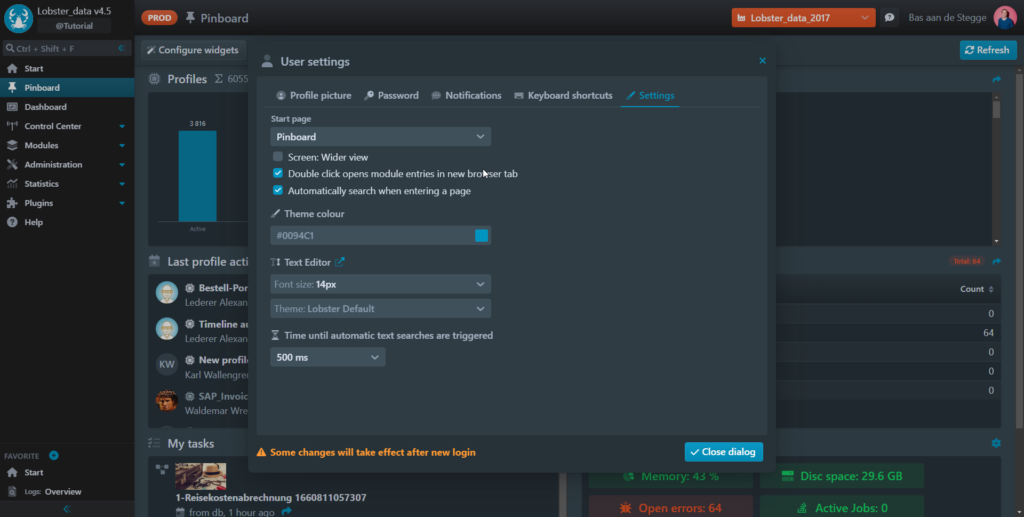 AVAILABLE NOW! FOR NEW AND EXISTING CUSTOMERS.
Lobster_data 4.5 is out now and ready to go. New customers will automatically start using this release and existing customers can upgrade whenever they want. If you would like to know more about our latest version and all its unique options or see it in action, contact one of our experts for a demo. And lastly, keep an eye on our blog for more in-depth content about our most recent innovations in Lobster_data 4.5!
LOBSTER_DATA 4.5. OUR MOST IMPORTANT CHANGES.
Now that we've highlighted some of the new Lobster_data 4.5 features, you find below a shortlist of other important changes that could be interesting for your company. Implementing our customers' needs is a key concern here at Lobster, so please let us know what changes you'd like to see in our next update!
GUI & Usability. Speed is king.
Faster rendering/optimised interface for WFH users; smaller overhead
Progressive Web Application (PWA)
Syntax highlighting in logs (new AceMode)
Expert search/profile properties e.g. used functions
Navigation tree
Split page e.g. for testing
Improved logging and monitoring
Profile comparison & option to highlight differences
SQL console plug-in
Database templates e.g. Salesforce and Dataverse
Tailoring of data in dashboard for a specific customer only
Use of wildcards in the text search fields of tables e.g. log overviews
Defining of black and white lists for file uploads in different areas
Customisation. Just the way you like IT.
Client-specific dashboard display
Landing page selection
Theme colours for function-specific colour selection
Pinboard customisation with widgets
Communication channels. The more, the merrier.
AS/4 (phases 1 and 6)
Event-driven & configurable TCP/IP input agent and output path (phase 6)
New input agent SMTPS
MAPI Microsoft Exchange support
New subscription-based input agent for OPC UA (client and server)
Native connection to MongoDB
Kafka & IoT optimisation
Mapping. Now even easier with enhanced overviews.
Now with 450 functions in total
Optimised DataFlow Module e.g. for versioning, export & import, directory
DataCockpit Module (formerly WebInsight) with new portal, web monitor and new features e.g. forms that can be used without logging in
External monitoring
Supports barcode generators/readers (QR code, EAN-13 etc.)
ETL/ELT Module. Turning big data into business data.
Handling big data
Rapid processing through line-based approach
Suitable for SQL databases & native or NoSQL databases such as MongoDB
Suitable for data formats such as JSON, XML, CSV, fixed length records
Hybrid outsourcing of jobs via Lobster Bee and OpenFaaS
Workflow Module. Go with the flow.
Human interaction through workflow forms e.g. authorisation process, claiming travel expenses
Orchestration of all Lobster_data Modules and master instance for the entire process
Implementation of partially and fully automated processes
Combinable with Lobster_data profiles and the DataCockpit and ETL/ELT Modules
Security. Our bouncer for your data.
ACME-Certbot support, automatic certificate renewal for the host name of the respective system with CA signing
Mail authentication of an IMAP or SMTP connection with OAuth 2.0
Detailed authentication concept

One-time authentication through single sign-on (SSO)
Two-factor authentication (2FA)
Multi-factor authentication (MFA)

Option to set up access controls with OAuth 2.0
X509 certificate import to support PEM-encoded PKCS#7 certificate stores
Supports new Cipher Suites for TLS 1.3
Integration server. Engine tuning hidden under the hood.
Use of Java 11 (LTS)
Update Center for checking for new patches, updates, templates etc. with automatic download feature
Export of web services (RESTful profiles) in Open API Specification format (Swagger)
Servlet for REST API RAML documentation
REST API for importing profiles
REST API viewer for JSON and YAML